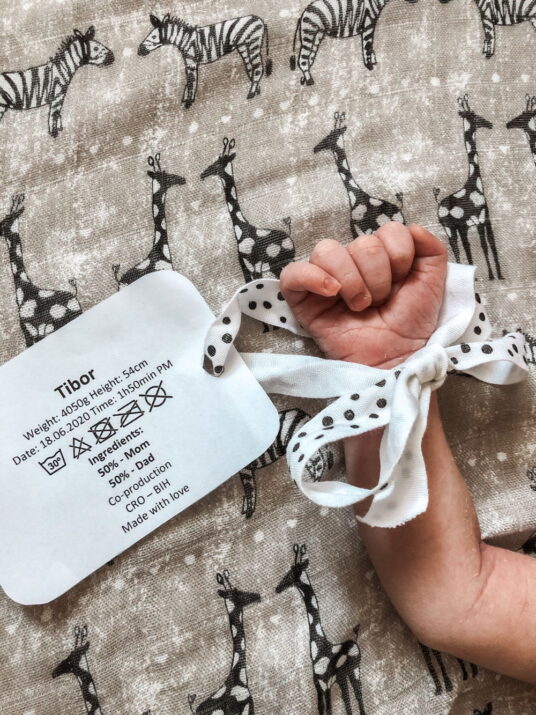 Budi me bol, izdaleka, još tupa. Pridižem se jedva, išijas mi je vjerni saputnik svih devet mjeseci a s "osvojenim" kilogramima i izolacijom u doba pandemije, nisam mu baš ni dala puno povoda da ode.
Gdje je taj sat? Hvata me bijes u momentu – zašto nemamo policu iznad glave, za sat, mobitel, knjigu…
"Nemamo jer ti nisi mogla odlučiti mjesecima koju bi boju zida, a polica se bira u zavisnosti od boje i zavjesa za koje nikada nisi smislila kako ćeš ih zakačiti… " čujem Davora kako nabraja u mojoj glavi, pa se nasmijem. U stvarnosti, slatko spava pored mene , pa me i na to hvata bijes, mene boli a njega boli briga, neće on rađati. I onda se opet smijem, sama sebi i žustrim razgovorima koje sa sobom vodim, ujutro u 5h.
Na njegov rođendan.
S trudovima.
Od momenta kada je doktor prognozirao da će se Tibor roditi sredinom šestog mjeseca, Davor je navijao da bude na njegov rođendan. Ja sam navijala da bude što ranije, logično. Ništa ne bude kako sam zamislila, još logičnije.
Drugi trud dolazi tačno pola sata iza i već sam na pola puta do kuhinje, ako nisu lažni da do sljedećeg makar popijem kafu.
Nisu bili lažni.
Popili smo kafu, još jednom sam čekirala je li sve spremno za bolnicu, Robijev ruksak za vrtić, njegove stvari za popodne i dane koje ću biti u bolnici, zalihe kakaa, mlijeka, sve vrlo smireno kao da pripremam nekome drugom.
Nikad neću zaboraviti to jutro – Robija kojem nije jasno zašto nosimo kofer, mene kako pokušavam od njega skriti koliko me boli kad zaboli, uzbuđenje koje smo prenijeli i na njega pa je plesao po kući dok smo se spremali i smijao cijelo vrijeme.
"Dobit ćeš brata, Robi" – ponavljao je Davor.
"A hoću li dobiti i kinder jaje?" – ponavljao je Robi.
Prvi put sam postala mama u kasno ljeto 2017. Moj prvijenac, Robi, došao je na svijet vrišteći i na "valovima" u 6.10h ujutro i rijetka su jutra poslije koja u isto to doba nije budan. I tako tri pune godine.
Posebna i neopisiva bol koja je pratila dolazak na svijet garavog dečkića od cijelih 4kg i 53cm je odavno zaboravljena ali prve minute i sati koji su uslijedili zauvijek će ostati urezani ne samo u moje sjećanje slikom nego mirisom u mojim nosnicama i dodirom na mojoj koži.
Baš zbog toga sam Tibora jedva čekala.
Nisam imala plan poroda. Vjerovala sam sebi i svome tijelu prije svega. Vjerovala sam doktorima, babicama. Sigurno nije odmoglo ni prvo, pozitivno iskustvo, ali i činjenica da ja nisam žena od planova i organizacije, posebno u stvarima koje koliko god planirali imaju svoj tok i nepredvidive su.
Svoje trudove sam ispraćala i dočekivala na plaži. Sami, Davor i ja, uz kafu u papirnim čašicama. Ne znam da li i drugi parovi to rade ali mi obično u takvim momentima se prisjetimo naših početaka i uz nevjericu imamo uvijek isti komentar – A VIDI NAS SADA.
Nisam ni žena od meditacije ali ima nešto posebno smirujuće u ranim jutrima kraj mora, posebno kada su plaže puste.
Druga beba. Naša beba. Beba u doba korone.
Bolnički protokoli i mjere zabrane su se mijenjale na dnevnoj bazi. Posjete su još uvijek bile strogo zabranjene, kontrole se obavljale samo uz najavu. Ipak, u tim danima je pratnja na porodu još bila dozvoljena što je meni značilo sve na svijetu. I Davoru, makar bio u zaštitnom odijelu i s maskom.
Ne znam je li do pandemije virusa, moga uzbuđenja ili jednostavno dubrovačkog rodilišta – svi su bili susretljivi i divno raspoloženi, nasmijani, spremni za šalu i toplu riječ da i najmanji strah koji je negdje tinjao u meni su ugasili na pragu predrađaone. Bolničkim hodnicima se već pročula vijest da će neka žena roditi dijete mužu za rođendan i tako s poklonima završiti za cijeli život.
Babica koja me dočekala mi je, bez obzira na činjenicu da nisam prvorotka, objasnila svaki korak koji ćemo proći. Smijala se zajedno sa mnom kako bolnička spavaćica ne ide preko mog ogromnog stomaka i pomogla mi obući drugu. Razgovarale smo o svemu osim o onome što slijedi tokom priprema u predrađaoni i toliko mi je "sjela" da sam zaboravila zbog čega sam uopće tu, dok me trud ne bi podsjetio.
Postavila mi je "set" pitanja koja su me pomalo začudila – pitanja o porijeklu, godinama i porodici moga muža ali je toliko bila draga da sam prešutjela.
U rađaoni su nas dočekale doktorica i druga babica, nasmijane, vesele, pričljive. Podne je i pričamo o ručku. Doktoricu već "poznajem", pazi sada – s instagrama. Dok čekamo Davora ona im priča priču o Bobu koji će se uskoro roditi, odakle i zašto baš Bobo i kako ima brata brbljivca koji obožava slikovnice.
Babice nas savjetuju kako s dvoje djece, da ljubomora starijeg djeteta nije ništa strašno i predviđaju nam, kroz smijeh, "zvjezdane uspjehe u majčinstvu". Kažem nam – jer je i doktorica trudna i već sutradan prestaje raditi i odlazi na porodiljni. Zapravo, njena smjena je već gotova ali ostaje tu s nama još malo, dok se ne opustim. Doktor u čijoj sam smjeni rodila je onaj za kojeg sam se nadala potajno da će biti. Iz dosadašnjeg iskustva više volim biti u rukama mladih doktora i doktorica, mnogo su susretljiviji i ljubazniji.
Rađaona mi djeluje tako malena pa pitam zašto nismo u onoj u kojoj sam rodila Robija i po njihovom smijehu zaključujem da sam rekla neku glupost – dubrovačka bolnica ima samo jednu rađaonu ali u pola noći kada sam je posjetila prvi put i sa strahovima koji prvi put nosi, i nije čudno da mi se učinila ogromnom.
Davor je već na svome mjestu i dok dišem kroz svoje, sve jače trudove prateći upute babica pitam se kako sam uopće rodila Robija jer se ne sjećam da sam pravilno disala. Ma ne sjećam se da sam disala uopće.
Ne znam kako bi uopće zahvalila babicama koje su bile uz nas cijelo vrijeme.
Neki će reći – pa za to babice i služe, godinama prije su žene rađale bez pompe i prevelikih očekivanja da ih netko drži za ruku. Danas čujemo svašta, čitamo o različitim situacijama, iskustva rodilja ne budu često lijepa ili se možda samo o lošima govori.
Roditi baš nije lako, to već znamo. Porod je nešto najteže što sam napravila i što ću ikada napraviti u svom životu. Ali je i najljepše, najčarobnije i ono što nas promijeni zauvijek, što zauvijek promijeni naše poglede na svijet, na nas same, naša tijela.
Ali njih dvije – poklonile su mi najljepši dar ikada: Tibor je tako lako došao na svijet a moje porodiljno iskustvo je bilo i ostat će više od pozitivnog. Nije samo stvar u tome da su one vjerovale u mene, da ja to sve mogu za čas posla već su učinile da ja vjerujem u sebe.
Nježne, obazrive, u svakom trenu su objašnjavale što moje tijelo radi i što će još napraviti da dočekamo Tibora. Obraćale su mi se s takvim poštovanjem kakvo nažalost više nitko ne očekuje u bolnicama. Slušale su što govorim, disale zajedno sa mnom, masirale me i svako malo pitale kako se osjećam.
Obje su bile smirene i pozitivne, osmijeh niti u jednom momentu nije silazio s njihovih lica. Nasmijavale su i mene i cijelo vrijeme sam imala osjećaj da smo tim. O da, Tibor je imao svoj tim za doček, čak se u jednom trenu i navijalo.
"Vidiš moj Davore koji si ti sretnik – rodit će ti žena sina na rođendan. Pa da si tražio bolji poklon ne bi ga mogao dobiti…", rekla je u jednom trenu babica.
Davor se smješkao a ona nastavila:
"I ja sam sretnica. Znaš, na današnji dan, prije tačno 34 godine, na ovome istom mjestu, u istoj rađaonici, jedina razlika je što smo imali stare kovane vojničke krevete, porodila sam svoju prvu bebu u karijeri. Ta beba bio si ti. Kad se samo sjetim, bila sam u većem strahu nego tvoja pokojna majka. Oboma si nam bio prva beba…
Ti ćeš dobiti sina na rođendan a ja ću mu pomoći da dođe na svijet, kao što sam tebi, 34 godine ranije…
Danas oboje dobijamo dar."
Već na pola njene priče, svi smo plakali. Otuda sva ona pitanja iz predrađaone.
I nije više bilo ni ljepljivog zraka, ni težine maski na licu, ni jačine trudova, ni straha ni panike. Samo nevjerovatan osjećaj da se slučajnosti ipak dešavaju s razlogom ili uopće ne postoje.
Da život piše najdivnije priče.
I da je ovom, bar na tren, i Davorova mama oživjela kroz malo ljubičasto čudo, od 4050g i 54 cm koje je vrišteći požurilo da se rodi, nakon samo sat vremena trudova.
Novi život je za nas donio mnogo više ovaj put. Ili smo samo mi bili svjesniji momenta u kojem se rađa, bez straha, bez pitanja u glavi "kako ćemo i hoćemo li moći" jer ovaj put smo znali da možemo, da hoćemo.
Tibor je sa sobom, pored mirisa nove velike ljubavi koja kuca u grlu, donio sjećanja i na neki čudan način pomirio novi život i gubitak one koja je na tom mjestu proživjela sve emocije koje smo prošli i sami, neopisivu sreću i neopisivu tugu, ispunjenost i nedostajanje.
Njegova priča je toliko posebna i jedinstvena i rijetko je kada ispričam bez suza.
Ljubavna priča.
Ljubavna priča započeta prije trideset i kusur godina koja traje i nastavlja živjeti kroz njegove plave oči.
Ljubavna priča koju ću uvijek pričati kao onu najljepšu koju sam ikada čula.
P.S. Sve ljubavne priče imaju poseban miris koji ih prati. Miris kože, parfema, mora pokraj kojeg se šeće, cvijeća koje ona drži u ruci ili miris svježe pokošene trave koju donosi vjetar.
Ova ljubavna priča miriše na jaku kafu s malo mlijeka koju su babice skuhale Tiborovoj mami jer je na njihovo:
"Bravo mama, sad se odmori", pola sata nakon što je rodila odgovorila:
"Da mi je sad kafa, rodila bih još troje…"