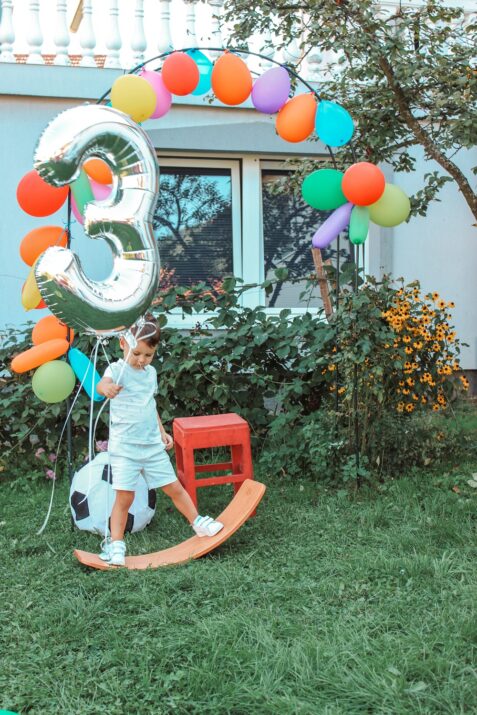 …ili dok jedva čekam da jedna faza prođe pitam se gdje je proletila još jedna godina
Robi je napunio tri godine.
Koliko god sam se trudila da budem prisutna i živim u momentu, da stavim sve obaveze sa strane i sjednem na pod među razbacane igračke, toliko često osjetim krivnju. Jer nisam među tim razbacanim igračkama tako često.
Osjetim se krivom za svaki put kada sam jedva čekala da zaspi, samo da zaspi pa da u miru popijem kafu, pospremim kuću, skuham ručak ili pojedem nešto i sama.
Osjetim se krivom za svaki put kada sam rekla naglas (a tek svaki kada sam pomislila) kada će se napokon prestati buditi svako malo i prespavati noć, prestati piti na bočicu, ne nositi pelene, početi jesti sam i znati reći da ga nešto boli.
Osjetim se krivom kada je u vrtiću, kada nama nepoznate tete više njegovog "budnog" vremena provedu s njim nego ja. Za svaki put kada sam ga žureći s posla pokupila u vrtiću, a on oduševljen što me vidi usput prepričavao svoj dan, a ja teglila za ručicu i ubrzavala jer toliko me posla čeka kući – izjeda me grižnja savjest.
Sebe često doživljavam kao najvećeg licemjera jer u isto to vrijeme čujem često sebe kako govorim da vrijeme leti. Da moja beba to odavno nije. I žalim što je tako.
Robi je jučer napunio tri godine.
Gledam ga kako žustro objašnjava prananama razliku između cisterne i mješalice za beton i maše prstićem jer ga tata zadirkuje.
A kao da sam ga jučer rodila.
Još mi u ušima njegov prvi vrisak i garava dva oka kojima nije jasno otkud on tu, baš na mojim prsima. Još mi u rukama njegova četiri kila koja su nam pomrsila planove da mu pjevamo jedinu dječiju pjesmicu koju smo znali: "…imali smo pile, malo pile, jedno malo pile od tri kile…"
Još mi u nosu miris njegovog daha.
Više ne nosi pelene. Sam ide u kupatilo, čujem ga kako struže malom stolicom po podu. Kakao pije iz šalice i smije se svako jutro i svaku noć, bez izuzetka, jer od kakaJa ima brkove. Sve češće se sam igra na podu, u svojoj sobi. U svojoj sobi i spava i niko ga više ne ljulja na nogama. Sve rjeđe se budi noću, tražeći nas, da ga poljubimo, zagrlimo.
I ne, ne nedostaju meni ni pelene, ni bočice a posebno ne buđenja na svakih sat vremena. Samo me strah da nešto ne propustim. Da ne propustim danas. Nešto malo, sitno, glupavo što će sutra ili za još tri godine biti veličine Rusije. I što si neću moći oprostiti.
Jučer je na torti s njegovim najdražim likovima "prijateljima" ugašena svijećica s brojem tri. I slavila sam duplo – njegov treći rođendan i tri godine moga majčinstva.
Svaka od nas treba slaviti taj poseban dan, dan koji briše vrijeme, bitne i nebitne, sretne i one manje sretne događaje, odluke, greške… Dan koji gubitke i dobitke dovodi na isto, koji nulira sve između i jasno stoji kao najvažniji momenat puta zvanog majčinstvo.
Njegov početak.
Bez obzira na kojoj tački tog puta se nalazili, on je najbitniji i to sada jasno vidim gledajući moju majku i majku moje majke.
Slavila sam jučer rođendan mog prvog dječaka, zauvijek posebnog upravo jer je prvi. Možda sam ga ja rodila, ali s njim se rodila i jedna druga i drugačija Vildana. Slavila je i moja majka čije sam i dalje malo dijete, često oko njenih skuta, plačljivo i uplašeno, iako odavno nisam dijete. Slavila je i uživala više nego ja jer opet proživljava sve ispočetka, kroz moje oči, moje i njihove stope, njihov smijeh, zagrljaj i miris.
A tek moje nane, koje to prolaze treći put.
Neću pisati o tim emocijama jer ih nisam osjetila. Ali vidim tu posebnu sreću na njihovim licima, lakoću koraka koji je inače usporen i nestabilan, ruke koje bole uvijek osim kada treba od plastelina praviti kuglice i igranje na podu po cijenu da se s njega više i ne digne.
One žive magiju, još jednom…
I tako, usred bašte sjedimo nas četiri – četiri generacije majki i kćeri brojeći njegove osmijehe, prateći njegove korake s strepnjom da negdje ne zapne i skoro u isto vrijeme kada razmišljam da je možda već hladno Robiju sjediti na travi i stavljam ga u krilo, moja mama meni dodaje jastuk za "pod guzicu" a njoj njena džemper za "prigrnuti".
I znam da, bez obzira na godine ili godine njene djece, majka uvijek stavlja svoje dijete na prvo mjesto. Uvijek.
Jučer je naš Robi proslavio treći rođendan.
Moja majka je jučer slavila dan u kojem je pomirila uloge i kćerke, i majke i nane.
Moje nane su slavile praunukov rođendan. Nije mala stvar to dočekati.
Ja sam jučer bila sretna što smo uspjeli stvoriti sve te uspomene za Robija prije nego bude kasno. Godine zaista lete i ja ću se uvijek pitati jesam li dovoljno bila tu kada je trebalo, jesam li mogla bolje i više i vjerovatno ću se i dalje, s vremena na vrijeme, osjećati krivom za sve i svašta.
To dođe u paketu s majčinstvom, valjda.
Ali ću i dalje računati na dane poput jučerašnjeg. Čekati ih i dočekivati i radovati im se. I za svaki naredni biti beskrajno zahvalna.
P.S. Nikada neću dobiti na lotu. Prosto jer ga nikada ne igram. Ali jučerašnji dan je ionako mnogo više od tog dobitka.